ipg

Društvo inženjera plastičara i gumara

Society of Plastics and Rubber Engineers
Časopis "Svet polimera" / Journal "World of Polymers"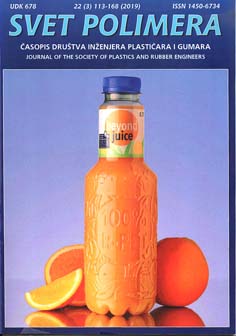 SADRŽAJ No. 3/2019
UVODNIK
AKTUELNOSTI
Bioplastika za kontakt s hranom
MATERIJALI
Materijali za lasersko zavarivanje
Plastomeri na bazi butena-1
Novi POM homopolimeri
Visokotemperaturni termoplasti
DODACI POLIMERIMA
Talk kao funkcionalno punilo
Boje i specijalni efekti
Antimikrobna sredstva
PRERADA POLIMERA
Ekstrudiranje biofilma
Prerada poliestarskih TPE – TPC-ET
Ekstrudiranje POE
Neki aspekti prerade PA
Ekstruziono razduvavanje bioplastike
PROIZVODI
Inovativna ambalaža
Film za stabilnost paleta
"Papirne" boce i tube
Novi proizvodi od inovativnih materijala
Savitljivi pametni telefoni
PRIMERI IZ PRAKSE
Dekontaminacija vakuumom
Biorazgradivi PET?
Pritisak ubrizgavanja i kontrapritisak
Modifikatori žilavosti za kruti PVC
Važnost nukleacije za preradu
Ultrazvučno zavarivanje
OPREMA
Oprema ključna za kružnu privredu
Tretman koronom
RECIKLOVANJE
Problemi u korišćenju reciklata
NEUSAGLAŠENOST PROIZVODA
Naslage na kalupu
CONTENTS No 3/2019
editorial
ACTUALITIES
Bioplastics for food contact
MATERIALS
Materials for laser welding
Polybutene-1 plastomers
New POM homopolymers
High temperature thermoplastics
ADDITIVES TO POLYMERS
Talc as a functional filler
Special effect pigments
Antimicrobial agents
POLYMER PROCESSING
Extrusion of bioplastic film
Processing of polyester TPE – TPC-ET
Extrusion of POE
Some aspects of PA processing
Extrusion blow molding of bioplastics
PRODUCTS
Innovative packaging
Film for pallet stabilisation
"Paper" bottles and tubes
New products made of innovative materials
Bendable smartphones
PRACTICAL EXAMPLES
Decontamination by vacuum
Biodegradable PET?
Injection pressure and backpressure
Impact modifiers for rigid PVC
The importance of nucleation for processing
Ultrasonic welding
EQUIPMENT
Equipment has key role in circular economy
Corona treatment
RECYCLING
Problems with usage of recyclates
NONCONFORMITY OF PRODUCTS
Plate-out on mold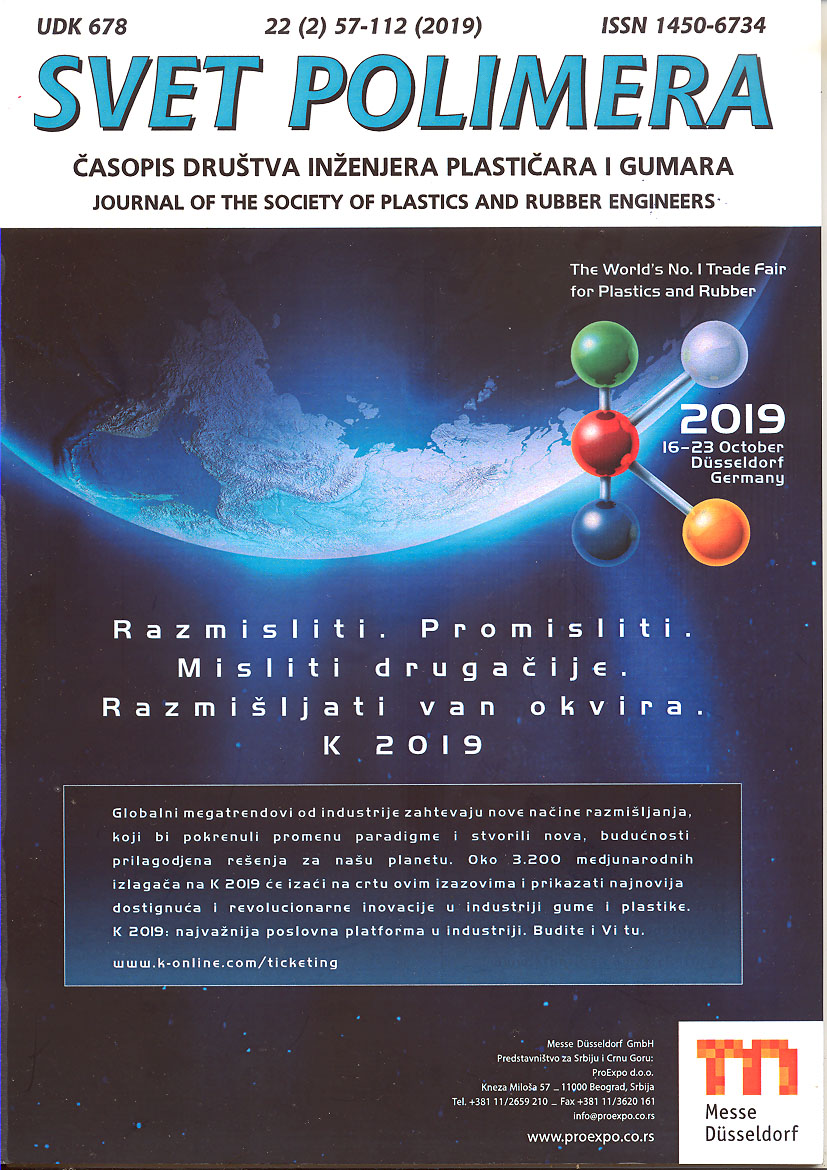 SADRŽAJ No 2/2019
UVODNIK
AKTUELNOSTI
Održana pretpremijera sajma K 2019
Igor Čatić, Deklaracija o ravnopravnosti tvari i materijala
Prikaz STUDIJE
Ocena ekoloških uticaja trgovačkih kesa i torbi tokom celog životnog ciklusa od proizvodnje do upotrebe i odlaganja
MATERIJALI
Razvoj novih tipova polietilena
Specijalni poliamidi (PARA)
POP, POE i drugi blok-kopolimeri
DODACI POLIMERIMA
Antistatici za termoplaste
Usporivači gorenja za poliamide
Zamena za čađ
PRERADA POLIMERA
Ekstrudiranje PLA filma
Podešavanje parametara za PC i ABS
Termoformiranje polipropilena
PROIZVODI
Kompoziti drvo+plastika
Zatvarači PET boca
PRIMERI IZ PRAKSE
Lubrikanti za kruti PVC
Prelaz duktilnog u krto
Brzina i vreme ubrizgavanja
Aluminijumski pigmenti (2. deo)
Ljušteći sloj za lako otvaranje
Vitoperenje IML otpresaka
OPREMA
AKTUELNO
Jednokratni plastični proizvodi: stanje, perspektive i budući izazovi (2. deo)
NEUSAGLAŠENOST PROIZVODA
Nagorevanje otpreska
Naprsline i pukotine na PET bocama usled naprezanja (2. deo)
CONTENTS No 2/2019
Editorial
ACTUALITIES
K 2019 Fair Preview
Igor Catic, Declaration on substances and materials equality
REVIEW OF STUDY
Assessment of the life cycle environmental impacts of the production, use and disposal of grocery carrier bags
MATERIALS
Development of new polyethylene types
Special polyamides
POP, POE and other block copolymers
ADDITIVES TO POLYMERS
Antistatics for thermoplastics
Flame retardants for polyamides
Carbon black replacement
POLYMER PROCESSING
PLA film extrusion
Process parameters setting for PC and ABS
Thermoforming of polypropylene
PRODUCTS
Wood/plastics composites
PET bottle closures
PRACTICAL EXAMPLES
Lubricants for rigid PVC
Ductile-to-brittle transition
Injection rate&time
Aluminium pigments (Part 2)
Peelable seal for easy opening of packaging
Warpage of IML parts
EQUIPMENT
ACTUAL
Single-use plastic products: state, perspectives and future challenges (Part 2)
NONCONFORMITY OF PRODUCTS
Diesel effect&burning
Stress cracking of PET bottles (Part 2)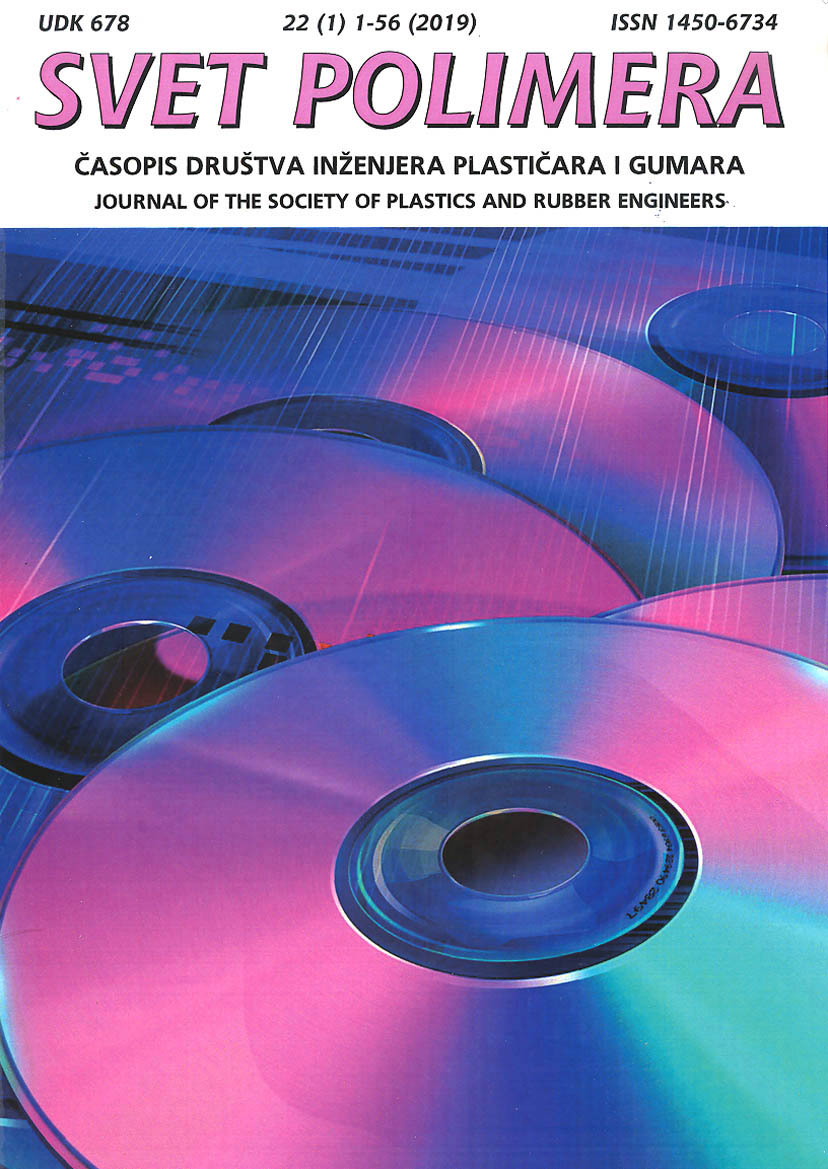 SADRŽAJ No. 1/2019
UVODNIK
KOMENTAR
Budućnost plastike u kružnoj privredi
Prikaz sajma
Sajam Fakuma 2018
MATERIJALI
Visokotemperaturne plastike
Termoplastični elastomeri – TPE
Poboljšanje bioplastike
DODACI POLIMERIMA
Aditivi za bolji kvalitet površine
Masterbačevi za specijalne efekte plastike
Antiblokna sredstva
PRERADA POLIMERA
Prerada polipropilena
Ekstruzioni PET kao zamena za PET-G
Injekciono presovanje TPU
PROIZVODI
Novi barijerni filmovi
PRIMERI IZ PRAKSE
Sušenje plastike
Habanje pužnog vijka ekstrudera
Preporučene konstrukcije pužnog vijka
Aluminijumski pigmenti
Uticajni faktori za izbor elastomera
Kontrola kvaliteta IML etiketa
TEHNIKA I TEHNOLOGIJA
Injekciono presovanje pri niskom pritisku
Hemijsko reciklovanje PS-a
Inženjering PET boca
OPREMA
Uklanjanje vazduha i gasova iz kalupa
AKTUELNO
Jednokratni plastični proizvodi: stanje, perspektive i budući izazovi (1. deo)
NEUSAGLAŠENOST PROIZVODA
Delaminacija površinskih slojeva otpreska
Naprsline i pukotine na PET bocama usled naprezanja
CONTENTS No. 1/2019
EDDITORIAL
COMMENT
The future of plastics in the circular economy
REVIEW OF FAIR
Fakuma Fair 2018
MATERIALS
High-temperature plastics
Thermoplastic elastomers
Improvement of bioplastics
ADDITIVES TO POLYMERS
Additives for better surface quality
Masterbatches for special effects of plastic
Antiblock agents
POLYMER PROCESSING
Polypropylene processing
Extrudable PET as a substitute for PETG
Injection molding of TPU
PRODUCTS
New barrier films
PRACTICAL EXAMPLES
Drying of plastics
Extruder screw wear
Recommended construction of screw
Aluminium pigments
Influential factors for selection of elastomers
Quality control of IML labels
TECHNOLOGY
Injection molding at low pressure
Chemical recycling of PS
Engi­neering of PET bottles
EQUIPMENT
Removal of trapped air and gases from the mold
ACTUAL
Single-use plastic products: state, perspectives and future challenges (Part 1)
NONCONFORMITY OF PRODUCTS
Delamination of surface layers on the molded parts
Stress cracking of PET bottles
---
Društvo inženjera plastičara i gumara IPG
Society of Plastics and Rubber Engineers IPG
SERBIA - 11040 Beograd, P.O. Box 23
Tel. 063/35-22-37; 063/88-30-947
E-mail: ipg1997@yahoo.com
© ipg2019