ipg

Društvo inženjera plastičara i gumara

Society of Plastics and Rubber Engineers
Časopis "Svet polimera" / Journal "World of Polymers"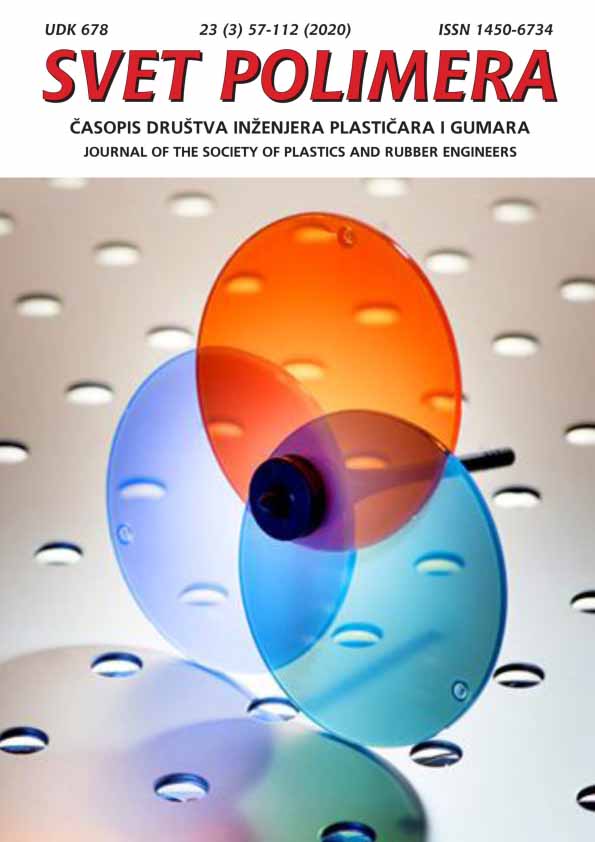 SADRŽAJ No. 3/2020
(digitalno izdanje)
INTERVJU
Profesor emeritus Igor Čatić, Stvarni uzroci klimatskih promena
TRŽIŠTE U SRBIJI
Industrija plastike u Srbiji
AKTUELNOSTI
Aleksandra Mihajlović, Korist od kompostabilne plastike?
Plastika u kontaktu s hranom
INTERVJU
Michael Stephen, Antimikrobni aditiv za plastiku
MATERIJALI
Termoplastični poliuretani – TPU
Poli(etilen-furanoat)
PBT za bolje injekciono presovanje
Razvoj EPDM kaučuka
DODACI POLIMERIMA
Aditivi za nukleaciju i prozirnost PP
Regulativa EU za aditive
Crni i obojeni pigmenti
PRERADA POLIMERA
Ekstrudiranje penastog PP-a
PROIZVODI
Enterijer automobila budućnosti
Kesice od monomaterijala
PC ploče štite od mikroba
PRIMERI IZ PRAKSE
Analiza problema zavarivanja
Izbor toplotnih stabilizatora za PVC
Optimizacija transportnog sistema snižava troškove
Svojstva TPE relevantna za primene
Elastomeri za zaptivke (2. deo)
Struktura IML otpresaka
OPREMA
RECIKLOVANJE
Borko Mijucić, Reciklovanje fleksibilnog PE u Evropi
NEUSAGLAŠENOST PROIZVODA
Mehurići i šupljine (2. deo)
CONTENTS No. 3/2020
(Digital Edition)
editorial
INTERVIEW
Professor emeritus Igor Catic, The real causes of climate changes
MARKET IN SERBIA
Plastics industry in Serbia
ACTUALITIES
Aleksandra Mihajlovic, Benefits of the compostable plastics?
Food contact plastics
INTERVIEW
Michael Stephen, Antimicrobial plastic additive
MATERIALS
Thermoplastic polyurethanes – TPU
Polyethylene furanoate
PBT for better injection molding
Development of EPDM rubber
ADDITIVES TO POLYMERS
Clarifiers and nucleating agents for PP
EU regulations on additives
Black and coloured pigments
POLYMER PROCESSING
Extrusion of PP foam
PRODUCTS
Interior of the car of the future
Pouches from monomaterial
PC sheets protect against microbes
PRACTICAL EXAMPLES
Sealing problem analysis
Selection of heat stabilizers for PVC
Optimization of the transport system reduces costs
TPE properties relevant to applications
Elastomers for seals (Part 2)
Structure of the IML parts
EQUIPMENT
RECYCLING
Borko Mijucic, Flexible PE recycling in Europe
NONCONFORMITY OF PRODUCTS
Bubbles and voids (Part 2)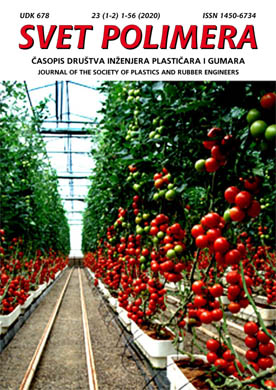 SADRŽAJ No. 1-2/2020
(digitalno izdanje)
UVODNIK
PREGLEDNI RAD
Vojislav Bogdanović, Izazovi evropske industrije plastike
ESEJ
Igor Čatić, Proizvodnja materijala i proizvodnja tvorevina
AKTUELNOSTI
Aleksandra Mihajlović, Kompostabilna bajka
MATERIJALI
Polibuteni i poliolefini za film
Razvoj elastomera i biopolimera
Poli(butilen-sukcinat)
DODACI POLIMERIMA
Aditivi za ambalažu
Antioksidanti za plastiku
PRERADA POLIMERA
Ekstrudiranje blendi PC+ABS
Kompaundiranje plastike iz bioosnove
PROIZVODI
Dizajn za reciklabilnost ambalaže
Plastika i virus korona
Biorazgradivi malč film
PRIMERI IZ PRAKSE
Kalcijum-karbonat
Prelaz duktilnog u krto (2. deo)
Defekti pri ekstrudiranju i njihovi uzroci
Krutost IML otpresaka
Elastomeri za zaptivke
OPREMA
Hlađenje PET predoblika
Brže i lakše postizanje boje
RECIKLOVANJE
Borko Mijucić, Mehaničko reciklovanje plastike: postupak koji zastareva
TERMINOLOGIJA
Termini koji izazivaju konfuziju
NEUSAGLAŠENOST PROIZVODA
Mehurići i šupljine
CONTENTS No. 1-2/2020
(Digital Edition)
editorial
REVIEW PAPER
Vojislav Bogdanovic, Challenges of European plastic industry
Essay
Igor Catic, Production of materials and fabrication of products
ACTUALITIES
Aleksandra Mihajlovic, The composting fairy tale
MATERIALS
Polybutene and polyolefins for film
Development of elastomers and biopolymers
PBS
ADDITIVES TO POLYMERS
Additives for packaging
Antioxidants for plastics
POLYMER PROCESSING
Extrusion of PC+ABS blends
Compounding of bio-based plastics
PRODUCTS
Design for recyclability of packaging
Plastics and coronavirus
Biodegradable mulch film
PRACTICAL EXAMPLES
Calcium carbonate
Ductile-to-brittle transition (Part 2)
Extrusion defects and causes
Rigidity of IML molded parts
Elastomers for seals
EQUIPMENT
Cooling of PET preforms
Faster and easier color achievement
RECYCLING
Borko Mijucic, Mechanical recycling of plastics: an obsolete treatment
TERMINOLOGY
Terms that cause confusion
NONCONFORMITY OF PRODUCTS
Bubbles and voids
---
Društvo inženjera plastičara i gumara IPG
Society of Plastics and Rubber Engineers IPG
SERBIA - 11040 Beograd, P.O. Box 23
Tel. 063/35-22-37; 063/88-30-947
E-mail: ipg1997@yahoo.com
© ipg2020